Summertime and the living is easy — unless you're a small business owner who's busiest during this time of year. As summer creeps closer, the number of service calls increases, your day-to-day task list grows longer, and you'll eventually forget about planning your summer promotion schedule.
Don't sweat it. Take a page from our book (literally) to get your promos in place before the sun brings the heat and new business. Here are four ideas you can steal right now.
Customer Appreciation Discount Email
Start summer by welcoming back repeat customers with an appreciation email. Pro tip: express your appreciation in the off-season to prove your relationship isn't just a summer fling.
This promotion will help you build strong relationships that open possibilities for referrals, 5-star reviews and influencer content.
Your appreciation email should include kind words and, what most of your customers are looking for, a discount to kick off their summer with some savings.
Need a little more help getting started? Feel free to copy the template below.
Social Media Referral Contest
If growing your customer list like well-watered flowers is your goal this summer, run a monthly referral contest on social media. This will give your customers a chance to connect with you while regularly boosting engagement and securing leads.
You don't want to pinch the purse strings in this situation. Your customers need to be enticed enough to act, so see what's in your budget and consider offering:
Tickets to a sporting event
A gift card to an upscale restaurant
TVs, AirPods and other electronics
Wine and cheese club membership
Additionally, throwing in a free or heavily discounted service on top of the grand prize is a good way to sweeten this summer promotion.
If you want to take a more traditional approach, try posting something like this: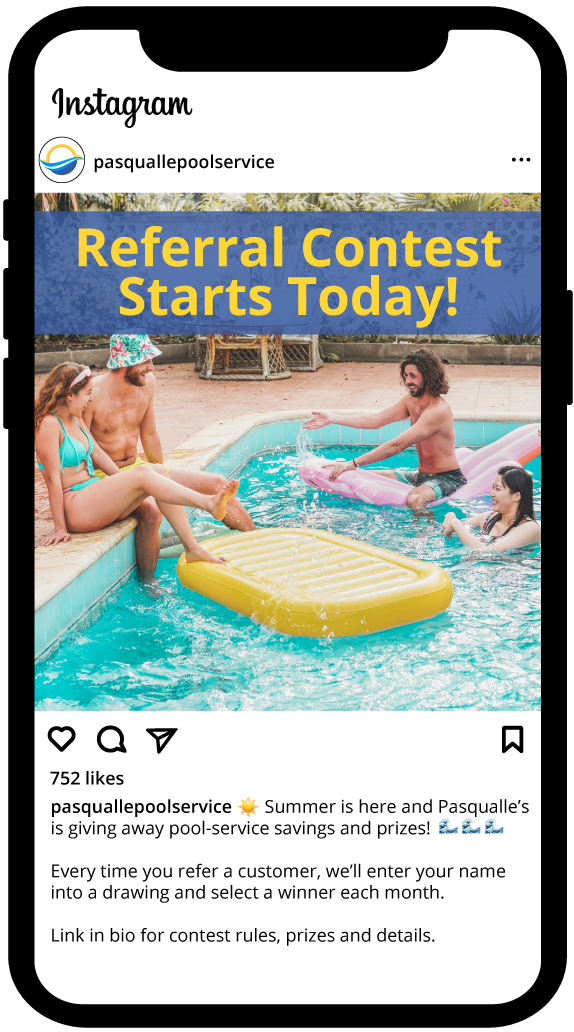 Alternatively, you can get creative with a short video to announce your referral contest. We promise it's not as hard as it looks. Just follow these steps:
Wear company-branded clothes
Bring a friend or employee to film you
Pick a setting that makes sense for your business
Keep your video less than 30 seconds
Make sure there isn't too much background noise
Use captions
Go above and beyond by using in-app features or a trending sound or song
Christmas in July Text Message Campaign
Why not bring a little holiday cheer into your business's most wonderful time of the year? Kick off a 12-Days-of-Christmas-in-July promotion.
Make this one count by featuring something different each day that will help your business grow. For instance, if you want more water heater installations, you could offer multiple incentives to boost those specific sales.
Don't just make it about booking services, though. Spread summer tidings with ways to win a personalized tumbler, super-soft beach towels or a margarita machine. It's summer after all.
Take these gifts and use them for your business's next text message campaign — no unwrapping required.
BOGO Discounts Automated Messaging
Two words. BOGO, baby!
Give existing customers the option to purchase bulk services or a multi-year membership at a discounted rate. For example, offer customers the opportunity to buy four faucet installations and get the fifth one free. Or perhaps, offer them a three-year A/C maintenance contract for the price of two.
After the job is finished, use your business software to send automated BOGO offers to your customers with their receipts. It also wouldn't hurt if your field technicians mentioned the promotion after completing a job.
Not sure how to phrase it? Take a look at the free templates down below.
Or for those in-person upsell opportunities, have your employees try this:
Hey Mr. Matthewson. We're done with your service for today. I just wanted to let you know that we're currently running a promotion where you get one free cleaning after the purchase of a package of 4 cleanings. This offer is good all month. Keep in mind, there's no maximum on how many packages can be purchased and no expiration on the packages.
BONUS: Radio/Podcast/TV
Plug your summer promotion on stage, screen or audio wavelength. Instead of simply running an ad, make a meaningful appearance to educate consumers on a morning talk show or with one of these unconventional methods. Teach people about your passion, and then take the chance to humbly pitch your promo.
Your duct cleaning company could talk about dryer fire safety and then offer free inspections. Your pool service business could explain the science behind chemical balancing and then offer water park passes for a 2-year maintenance contract.
Quid Promo Quo
Summer promotions can strengthen parts of your business that will help it grow. Whether you want to boost new memberships or collect more 5-star reviews, create promotions that help you achieve those goals and benefit your customers.
If only you could snatch up these summer promotion templates and tailor them to suit your business's personality. Actually, go ahead. We won't stop you.
(Visited 644 times, 1 visits today)