How can your business survive through uncertain times, downturns or even the dreaded *shudder* holiday season?
Diversifying your business is not about "pivoting" (see obligatory gif below) – it's about taking what you already have and expanding on it to fit the current times.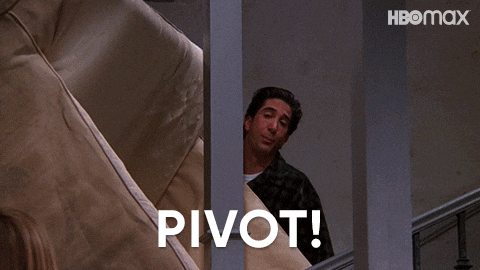 In this article, we'll explore what you can do with your business to diversify its offering and keep growing through periods of uncertainty, holiday shutdowns and more.
Did Someone Say Shopping?
The most obvious way to diversify your business is to go digital. If you're in the hospitality or retail sectors, you've likely already made your move to online ordering and delivery.
But what about other industries?
Think of the things that your customers may need that are adjacent to your business.
For example, a pet grooming business may sell specialty dog shampoo, or combs to keep their pets pristine until they can book your services again.
The products you sell online may not even have to be directly related to your core business.
For instance, a furniture removal business could sell sofa protectors, and a cabinet maker could sell varnishes.
All of these help bring in some cashflow during downtimes.
While you should take care to not over-spend on trying to establish an online presence, being able to create one could have great results for your business in the long-term.
Going Digital – But Not As You Know It
Digital isn't just for online shopping. Going digital helps to bring your expertise and know-how to your audience. Then, when the time is ripe, and your business's main practice is back, you'll have an adoring audience of fans and customers just chomping at the bit to purchase your products.
Take a pet groomer, for example, who may sell pet grooming supplies but also livestream "online grooming sessions" where they share tips and tricks to effectively groom their pets.
A landscaper could sell "virtual tours", where a potential customer takes them around their property to get advice on work required.
Adapting this strategy to your business works like this: Use online tools, such as streaming sites, social media or YouTube, and then sell your expertise.
Going digital is so much more than just selling products online – it can be a tool to help keep your business top-of-mind during downtimes.
Open Up to Your Passionate Community!
You're likely in your business because of a passion for your product or service – and your customers are much the same.
When you have a passionate group of people, they want to stick together and discuss those passions, so why not open up your expertise to those that want to hear it by starting an online community?
Online communities come in varied forms. You could start a Facebook group about the passion (note: This is not a Facebook page for your business).
Going digital is so much more than just selling products online – it can be a tool to help keep your business top-of-mind during downtimes.
For example, a pool builder could create a community about luxury pools, or start a Discord community where people can hop into voice chats to give each other advice.
If you're in hospitality, creating a community that shares recipes could be a good starting point. Or what about an arts supply store? How about a community that shares artwork or crafting advice?
Make sure you use all your marketing channels to promote this community, just like you would your business, but don't make it all about you – people will turn away if they think the community is just there as a blatant marketing tool for your business, so make it much more subtle!
Whatever your business, you'll find there's a community you can create that will bring passionate people together.
And you may just find that you reignite the passion that spurred your business in the first place.
Ally With an Adjacent Business
We've saved the best for last. Finding a business that complements yours is a big topic all on its own, but we couldn't pass up the chance to share this advice with you.
You don't have to go it alone. Partnering up with another business may seem daunting but ultimately, it can lead to some amazing wins for both sides.
Team up with a complimentary business; for example, a dog groomer may want to partner up with a pet food store, or a landscaper with a gardening business.
There's an infinite number of combinations for you to try your hand in, where you can both exchange goods or services that the other's customers may need.
It's a great way to cross-pollinate databases, too, and help you increase your marketing potential.
From there, consider collaborating on mutually beneficial social media campaigns that can supplement both of your business efforts this holiday season, or through other quiet and uncertain times.
(Visited 281 times, 1 visits today)