Signatures
A simpler way to eSign documents
Works with: Command Center & Business Center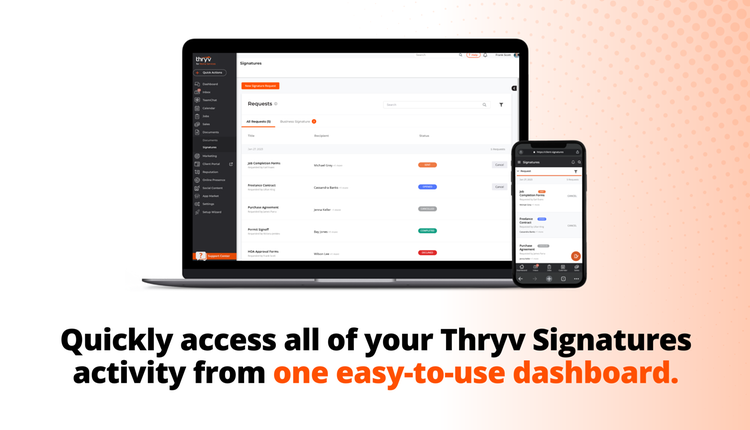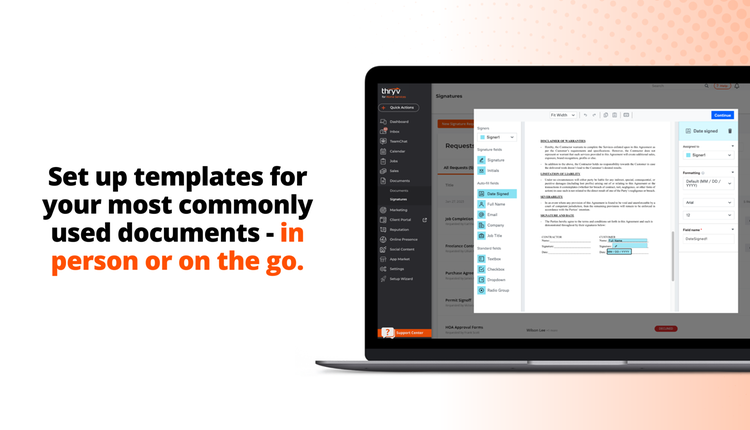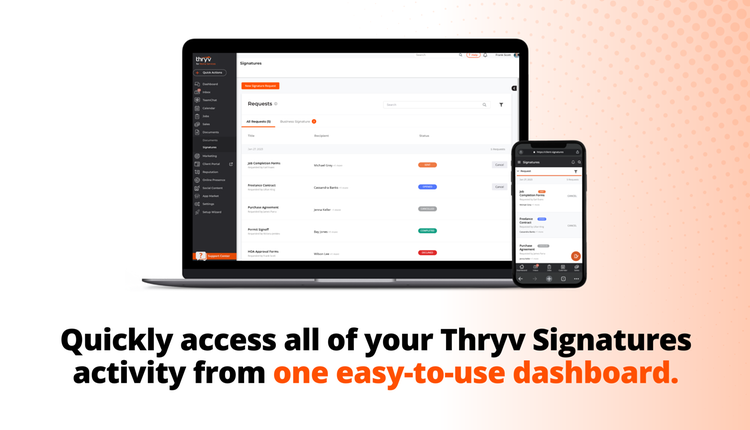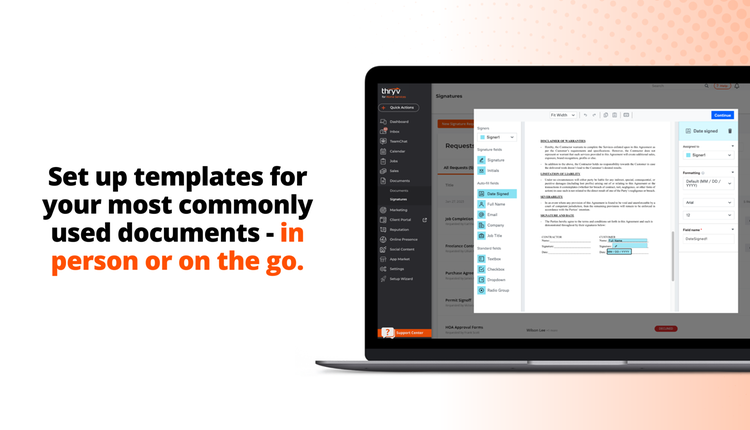 Overview
Thryv Signatures is the integrated eSignature app designed to help you efficiently request tamper-proof signatures on important documents. With Thryv Signatures, you can easily send digital signature requests to clients that are both templatized and secure.
This powerful efficiency app also sends reminders to signers about pending requests, ensuring timely completion. Once a document is signed, Thryv Signatures organizes it into the client's profile for easy access.
Thryv Signatures is the ultimate solution for small businesses looking for a safe and secure way to request signatures on important documents. With its user-friendly interface and advanced organization features, Thryv Signatures is a must-have app for any team looking to streamline their signature process.
Starting at
FREE
View all pricing plans
Simple Signing Process
Sign documents effortlessly with drag & drop, ordering, and real-time status.
Optimized for efficiency.
Easily customize templates with drag-and-drop signature blocks, text fields, checkboxes, and date fields.
Track your request status in real-time — every signature, approval, and related recipient actions are logged and viewable within the Signatures Dashboard.
Set recipient singing order for your documents.
Faster Signing Every Time
Sign quicker with easy to access templates and automatic daily reminders.
Upload, send, and sign seamlessly.
Document upload made easy with just a few quick steps.
Save unlimited templates for your entire team to use and set favorites for easy access.
Automatic daily email reminders to signers so you don't have to worry about checking in with clients.
Protected Documents
Signatures are safe and secure to ensure document integrity.
Tamper-proof and legally binding.
All of your documents are automatically protected.
Adding the eSignature field makes your documents as legally binding as traditional pen and paper.
Ensured document integrity for your peace of mind.
Included
Unlimited users
Ideal for
Capturing important documents and signatures easily.
First 5 signature included
Included
Unlimited users
Ideal for
Anyone using more than five signature request per month.
Simplify Your Signature Requests
Sign documents with customizable templates featuring drag-and-drop signature fields, real-time updates, signing order, and various field types such as text, checkbox, and date.
Speed Up Your Signing Process
Reusable templates and daily reminders speed up signing. Signed documents are automatically organized in Thryv's CRM system, and unlimited templates can be uploaded.
Keep Your Documents Protected
Tamper-proof security and legally binding signature fields ensure document integrity. All documents are automatically tamper-proof, and eSignature fields make them legally binding.