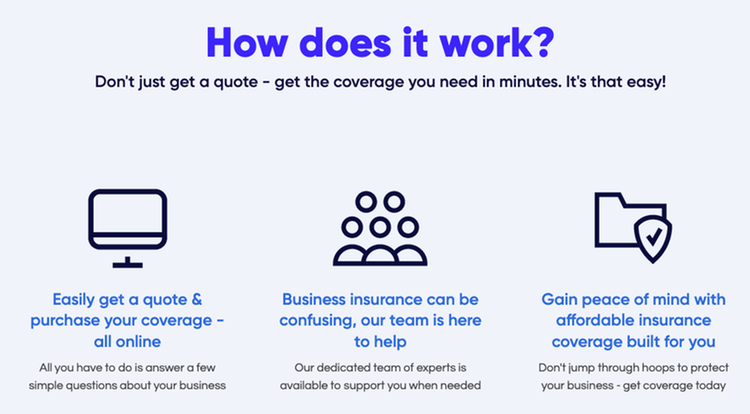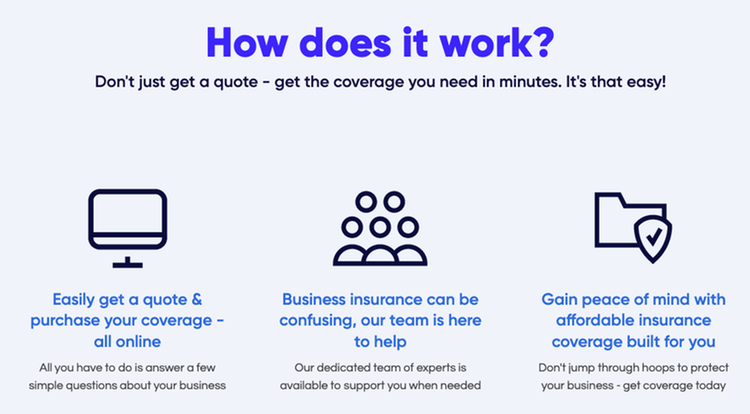 Overview
Thryv has partnered with Coterie Insurance to offer accessible, affordable and reliable insurance coverage for small businesses with customized coverage options, a user-friendly online platform and competitive pricing.
Whether it's a requirement for obtaining a license for a job, loan approval, office space leased, or you simply want peace of mind, Coterie provides options such as General Liability, Business Owners' Policy and Professional Liabilities Policies.
Starting at
FREE
View all pricing plans
Protect Your Business with Confidence
Affordable, reliable and customizable insurance coverage from Coterie.
Coverage for Peace of Mind.
Minimize the financial impact of unexpected events and protect your business from significant losses.
Protect your employees from potential work-related accidents or injuries, providing them with the necessary financial support during difficult times.
Minimize the financial impact of an emergency and ensure that your business can continue operations during difficult times.
Simplify Your Insurance.
Customized insurance coverage options that are tailored to the unique needs of small businesses.
Easily obtain insurance quotes, purchase coverage and manage your policies with the online portal.
Coterie makes it easier for businesses to protect themselves and their assets.
Included
Unlimited users
Ideal for
Those looking for new or additional insurance coverage for your business.
Quick online quote
General Liability
Business Owners Policies
Professional Liabilities Policies
Reliable protection
Small businesses can protect themselves, their employees, inventory and customers with affordable and reliable insurance coverage offered by Coterie.
Insurance you can trust
Coterie Insurance is a licensed insurance provider available in all 50 states and is backed by A-rated licensed insurers and reinsurers.
Customized coverage
Get coverage options that are tailored to the unique needs of small businesses. Easily assess your risks and select the coverage that best fits your business needs.
Support
Any third-party trademarks or logos are the property of their respective owners. No endorsement or recommendation of any product, service, or company is implied.