Online marketing has always offered the advantage of data. Full end-to-end reporting of user behavior is crucial for the success of any campaign, but you can lose the trail when an interaction with a customer goes beyond your web site. This is especially true when running campaigns with Google, as their Analytics package will only take you to a form submission or (if you have a tracking number through Google) a phone call. If you made a sale off a phone call or a walk-in from a customer you could identify, you'd have to use a third-party solution to keep track of those conversions. But Google is stepping up to the plate to try and fix that problem.
Tracking IDs
The first step to taking advantage of the AdWords Conversion Import feature is to make sure you're using Google's auto-tagging feature. The setting for this can be found in your Account Preferences.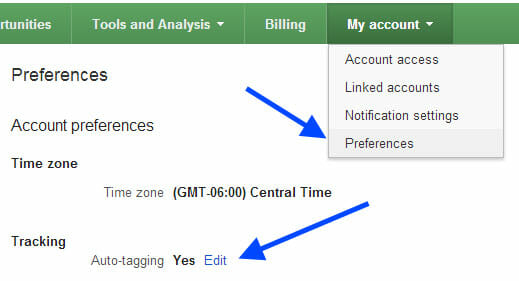 After you've enabled that setting, Google will append a variable to your URL string. For example, if your destination URL is:
http://www.example.com/landingpage.htm
Google will change it to:
http://www.example.com/landingpage.htm?gclid=12345678
This click ID will allow you to submit conversions to Google's system to be considered in your optimization process. If you track that variable through your web site, you can attach the number to a customer's record. When that customer makes a purchase, you can import it into AdWords and it will be recorded against that click event.
What's in it for me?
As with online conversions, this process allows you to include a specific conversion amount. This will fill your account with rich conversion data that will enable you to take advantage of the AdWords tools that generate reporting based on conversion data. You'll be able to set up automated rules to optimize based on offline conversions. You'll be able to dig into search funnels to determine the best path to turn a search engine marketing click into a sale. All of this was possible before with additional legwork from advertisers, but now it's just part of the tool set that's available to all.
Google will likely continue to find better ways to centralize your data and generate better results. After all, it's as much in their best interest as yours that your advertising programs succeed.
(Visited 38 times, 1 visits today)